Welcome to the Wiki!
Hey there, and welcome to the So Random Wiki! There are 98 articles and still growing since we were founded in June 2011. The format allows anyone to edit or create a page, a blog, and more! So, edit away! We are thankful to have you and hope you join the Wiki and stay.
If you need any help, contact one of the admins.
So Random! Wikia
The wiki about So Random! that anyone can edit

98 articles since May 2011
Please read the rules before you start editing


So Random! is an American Disney Channel sketch series that premiered on June 5, 2011. It was announced as an independent series after Demi Lovato left the parent series, Sonny with a Chance, to focus on other endeavors. The series stars the other actors of Sonny with a Chance: Tiffany Thornton, Sterling Knight, Brandon Mychal Smith, Doug Brochu and Allisyn Ashley Arm as well as other featured actors that recur in the series. The series premiere was watched by 4.1 million viewers.

Latest Episode
Season 1, Episode 7: Coco Jones - Coco Jones performs "Stand Up". Sketches: Bracey Girrlz Rap, Sally Jensen: Kid Lawyer, Nolan, Angus: Supermodel from Down Under, The Back Up Singers
Featured User
KataraFan is June 2011's Featured User. Vote for July's Featured User at this page
Poll of the Month
Who is you favorite main character?
Featured Episode
So Random! News
There will be a new episode of So Random! premiering this Saturday!
Featured Character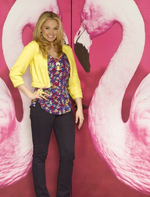 Tawni Hart likes to be the center of attention. She is obsessed with fashion, her looks, her style, and hair and becomes upset if she does not get her way.

Latest activity
Latest blogs
Create blog post
Latest Blog Posts
Heeeyyyy!Just want to say I love ths show!I miss Sonny With the Chance a lot ,it use to be my favorite show ever!Now I'm moving on with my life and b…

Read more >

OK, so can u guess who my fav cast member is, here is a hint - her first name stqarts with "z"

ITS ZORA LANCASTER SHE RRRRRROOOOOOCCCCCKKKKKKKSSSSS!!!…

Read more >
See more >